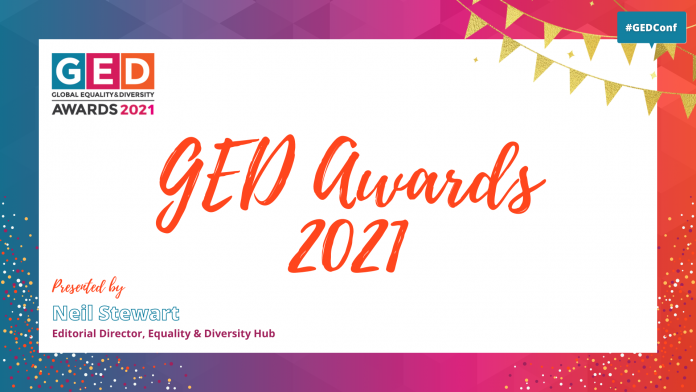 Luminaries from the world of equality and diversity in business were honoured at the 8th Annual Global Equality & Diversity (GED) Awards which took place online yesterday.
The big winners on the day included Jessica Bensch of F. Hoffmann-La Roche Ltd, Wood PLC, AVEVA and 50:50 – The Equality Project (BBC).
The Global Equality and Diversity Awards were conceived by Lord Noon to recognise the contribution of businesses and public organisations to equality and diversity.
Now in their 8th year, the GED Awards are both a celebration of achievement and also inspiration for the next generation of bold change, using transparency in measuring impact and revising business action plans.
The quality of this year's entries was very high and it is clear that that despite the pandemic there is a lot of innovative work taking place around the country, globally in businesses, local government, academia and public services. We are raising the bar and ensuring equality and diversity not only in the workplace but in all the practices and relationships of organisations.
We'd like to thank Holman Fenwick Willan LLP for their support of GED and, in particular, their kind sponsorship of the Noon Award.
Watch the Global Equality & Diversity Awards 2021:
Winners & Highly Commended Nominees
THE NOON AWARD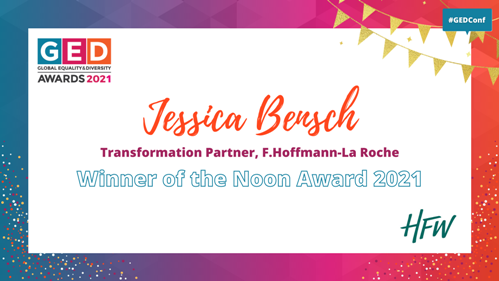 WINNER: Jessica Bensch, Transformation Partner, F. Hoffmann-La Roche. 
The Noon Award is presented to an individual or business who has, through their personal example, innovation or business model, contributed to greater diversity and equality in race, gender, identity and opportunity for peoples or groups.
Jessica Bensch, Transformation Partner, F. Hoffmann-La Roche won this year's Noon Award. The judges were greatly impressed with Jessica's work on huge international projects, her personal commitment to equality, diversity inclusion incorporating huge international projects, with global reach and her innovative use of online technology.
INCLUSIVE WORKPLACE AWARD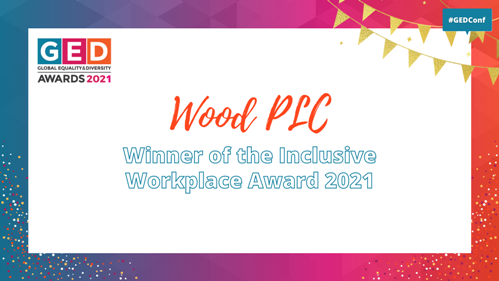 WINNER: Wood PLC
HIGHLY COMMENDED: AVEVA
Workplace and workforce remain central drivers of inclusion, diversity and greater equality. A huge change in the understanding and demand for equality and inclusion in the workplace is taking place. Public and private organisations have identified inclusive workplaces as critical to competitive edge in business and quality delivery of public services.
The Inclusive Workplace Award was won by the Wood PLC. Engineering remains a place of huge challenge on diversity and inclusion. Wood PLC with 40,000 employees, used a 5 pillar approach on Leadership, Culture and Include, Employee life cycle and employee Networks with measurement and evaluation. A great holistic approach across different languages and cultures in a previously male dominated world.
Highly Commended in this category was AVEVA for delivering at speed and scale diversity, equity, inclusion and wellbeing change in the workplace. AVEVA operate in a fast moving, fast expanding area of technological transformation which had been slow to recognize criticism of being young male and pale but had then to adjust their gender focus to a wider inclusion and diversity focus after the death of George Floyd – all in the face of a pandemic.
TRANSPARENCY AWARD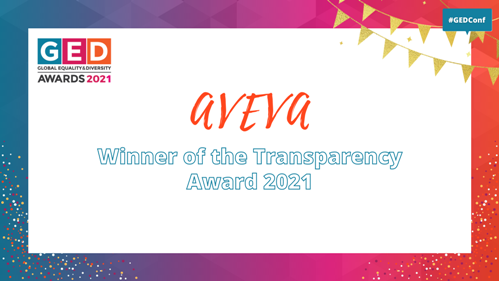 WINNER: AVEVA
The GED Transparency Award celebrates the best example of published data and transparent information across business and the public sector on organisational make up, staff and/or customer service.
The Transparency Award was won by AVEVA and in particular Jo Stansfield, Lena Milosevic MBE, Debbie Install and Alicia McCollam for the delivery of their first ever Ethnicity And Gender Paygap Report.
Race and ethnicity disparity reporting has not been put on the statutory footing of gender pay. This award is for running ahead of the pack and transparency of reporting on race and ethnicity but also for the recognition that this is, literally, not just about black and white but a wide range of ethnicities and experience that have disparities within these groups that need to be addressed.
Work like this will make the step to statutory reporting more impactful by working through the structure of reporting for others to follow.
IMPACT AWARD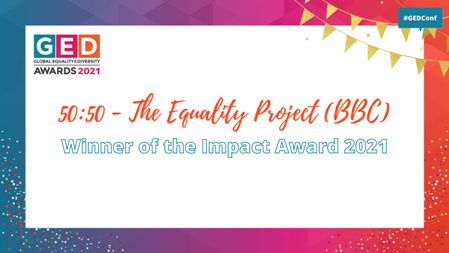 WINNER: 50:50 The Equality Project (BBC) 
The GED Impact Award celebrates an outstanding example of either a business or public sector organisation using new data, responding to transparency of data and making change which can show an impact related to that original information.
The Impact Award was won by the BBC's 50:50 The Equality Project.
For the second year running the Equality project at the BBC continues to be adopted by other organizations and set the uncompromising target of 50/50. Despite a sometimes hostile environment to BBC efforts, the rate and scale of success of this project is very impressive