Welcome to the live stream page of the 7th Annual Global Equality & Diversity Conference & Awards. The theme of this year's event is 2020 VISION: Fairness in the face of a crisis. This event will stream on this page from 09:30 on Thursday 22nd October 2020.
Menu:

Interactive Workshop
The live stream for the day is available to view below, however there is also an interactive workshop that participants can join on Zoom at 13:45 lead by Katie Day & Dr Roger Prentis, Directors at RDP International Ltd. Please note this workshop is being recorded so please mute yourself and turn off your video if you do not wish to appear in the on demand video.
Join Zoom at 13:45 for: Why midlife matters: supporting people during the menopause
Workshop outline
Positioning the menopause
The business case
A UK example of the current legal requirements
The impact on women and those around them
So, the menopause, what is it exactly?
How to open the conversation at work
Workplace best practice:
Practical adjustments
Culture change
External resources
Actions
The Live Stream
The live stream will play below from 09:30 on Thursday 22nd October. Please sign in with your email to verify your identity and ensure we are able to send you the on demand link post event.
We recommend using Google Chrome (PC) or Safari (Mac) as your browser to view this live stream and participate in the chat.
To view the chat function, please log in to chat as a guest. This will enable you to ask questions and discuss the issues raised with other viewers.
This event is available to view live and on demand. All participants will be emailed the link to watch the on demand videos post event.
Conference Programme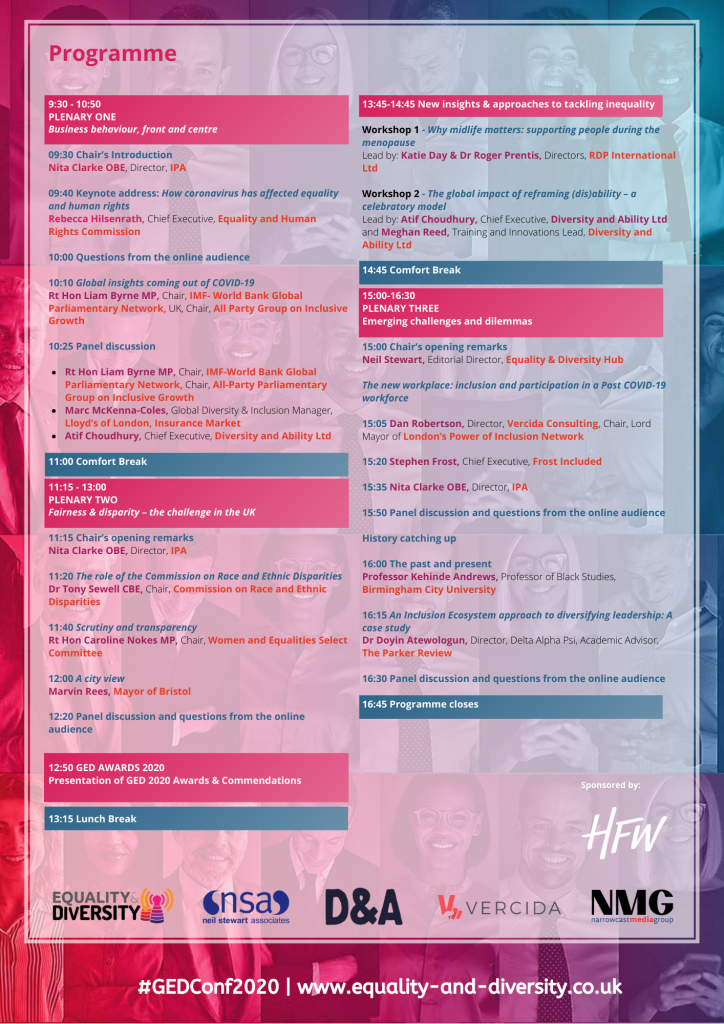 Evaluation Form
Technical Support
If you have any questions regarding this event please contact paul@narrowcastmedia.co.uk or call +44 (0)7709 145 234.