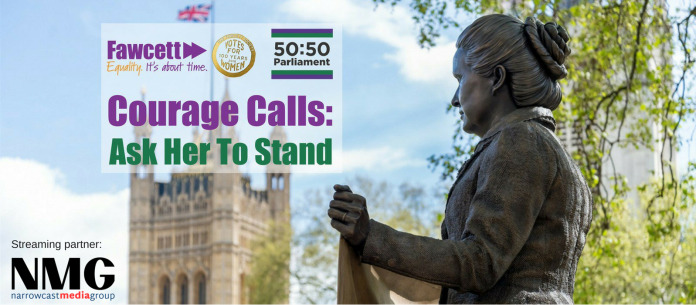 If you are a woman who is interested in taking the next step to become a candidate either locally or nationally, or who is interested in a career in public life this event, now available to watch on demand, is a must watch!
Hosts: The Fawcett Society and 50/50 Parliament
Live Streamed by: Narrowcast Media Group
This special event included a cross-party panel session providing practical advice on getting into politics and public life.
Watch this event to:
Hear from leading women in politics
Get practical advice and help with next steps
Join Fawcett's network, so that you can keep in touch
Celebrate 100 years of first votes for women by standing for office yourself!
1. WHY STAND?: What difference do women make?
2. WHAT'S STOPPING YOU?: Overcoming the barriers to getting into politics
3. BUILDING YOUR POLITICAL CV: How to build the relevant experience
4. POLITICAL CAREERS: Working in and around politics
Follow this event on Twitter by searching for the #AskHerToStand and #CourageCalls hashtags.
The lead partners for this event are the Fawcett Society and 50:50 Parliament. Event partners include:

Streaming Partner: